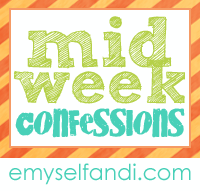 Midweek confessions stems from my friend Elizabeth's blog (
www.emyselfandi.com
). Her blog is way better than mine - her excellence in the blogging world is what I strive for. I like her concept for these so here we go:
- I refused to take the tags off any of my maternity clothes until our ultrasound this week. I was afraid I would jinx my pregnancy. I'm sure that God appreciates my lack of trust.
- I've been reading through the bible with my friend Kelly. We meet on Mondays. The last 2 weeks we haven't been able to meet and I didn't touch my Bible until last night. I have, however, watched at least 10 episodes of Beverly Hills 90210.
- I've had at least 3 cans of Coke this week. I told myself I would stay away from caffiene during pregnancy but I forgot just how good real Coke was and couldn't resist temptation.
- Charlie has lick wounds on his paws. I need to cone him but think its so cruel. We have antibiotic shampoo but both of us are too tired to give him a bath.
- This should have been done Wednesday, but its Friday. I'll try and be better next week.
-