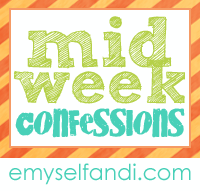 - First - I totally could have done this last night (the real mid-week) - small group got cancelled because of a flu bug. What did I do? Had Subway (thanks to my amazing husband), took a Benadryl (don't worry, doc said it was okay) and was asleep by 9:30.
- Remember a while back how I mentioned I was trying to read through the Bible - yep, haven't read a thing since that post. I'm not a total heathen - Andrew and I read through an NT Wright devotional for lent.
- I'm in a NASCAR fantasy league. And I'm winning. Awesome.
- I drank my last can of Coke that was in the house tonight. And I'm determined not to buy anymore
- Can't think of anymore. My brain is fried.
Hope everyone is having a good week!