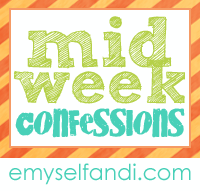 Its Thursday kids - here we go...
- A lot more people - mainly my patients - are asking me if I'm pregnant (which hopefully means I look pregnant instead of fat). One of these days I really want to say to someone "No, I'm not pregnant" just to see the look on their face. Depending on how much I like said person, I may or may not tell them the truth.
-My baby likes ice cream - when I eat it I feel all sorts of wiggling. I want to eat ice cream every night just to feel my baby move. And because ice cream is awesome.
- I clog a toilet in our house at least once a week. Thanks hormones. (sorry if thats TMI)
- My poor dog looks like a chemo patient - he is shedding so there are tufts of hair falling out and bald spots where I've been too aggressive with the Furminator
- Said dog hair has been in multiple locations on my carpet for the last week and a half. I still haven't vacuumed
- My suitcase from Hawaii (we got back 3 weeks ago) is still half unpacked on my guest bed. We bought coffee and macadamia nuts for our parents and have yet to send them.
Happy almost weekend everyone!
-