Hi Friends! Today I'm linking up with AP over at I Love You More Than Carrots for her blog series Hey, That's Pin-Tastic!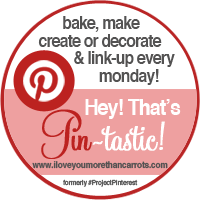 I, like most, can spend hours perusing Pinterest for many things. I tend to look most at Recipes and have pinned a lot to "My Inner Julia Child" board. However, I've tried many recipes only to find that they aren't nearly as good as the pinner once touted. Case in point - tried some chocolate chip cookies that the pin stated were the best cookies ever. They were terrible. I made Andrew take them to work and leave them anonymously in the break room so that no one would know that I made them. Lesson learned: never deviate from the original Nestle Tollhouse recipe.
*does anyone else automatically think of Friends when they hear Nestle Tollhouse?
So, I've now created a Board called "
Tried and True
" recipes where I will pin the recipes that I have actually made that are good.
The first recipe on my board? Cranberry Bliss Bars. One of the best parts about Christmas is a) Starbucks red Christmas Cups and b) the recurrence of the Cranberry Bliss Bar. A latte and a bliss bar are a fantastic combo. Living in Seattle where there is a Starbucks on almost every corner, I can indulge whenever I have a craving. So when I saw this clone recipe for the bliss bar, I was intrigued and had to try. And what did I find? They are phenomenal and very close to the original product.
Good news - cheaper to make at home then buy a bar for $2.95 at Starbucks.
Bad news - you have an entire pan at home that you might just eat in 48 hours.
Cranberry Bliss Bar Clone Recipe
(From Todd Wilbur, Top Secret Recipes Unlocked)
Ingredients
3/4 cup (1 1/2 sticks) butter, softened
1 1/4 cups packed light brown sugar
2 Tbsp. minced crystallized ginger
3/4 cup chopped sweetened dried cranberries
4 oz. white chocolate, cut into chunks
1 1/2 cups all-purpose flour
1 1/2 tsp. vanilla extract
Frosting
4 oz. cream cheese, softened
1/4 cup chopped sweetened dried cranberries
Drizzled Icing
2 tsp. vegetable shortening
Preheat the oven to 350 degrees F.
Make cake by beating the butter and brown sugar together with an electric mixer until smooth. Add the eggs, ginger, vanilla, and salt and beat well. Gradually mix in the flour and baking powder until smooth. Mix the chopped dried cranberries and white chocolate chunks into the batter by hand. Pour the batter into a buttered 9 x 13-inch baking pan. Use a spatula to spread the batter evenly across the pan. Bake for 25 to 30 minutes, or until the cake is lightly browned on top. Allow the cake to cool.
Make the frosting by combining the softened cream cheese, powdered sugar, lemon juice, and vanilla in a medium bowl with an electric mixer until smooth. When the cake has cooled, use a spatula to spread the frosting over the top of the cake.Sprinkle 1/4 cup of chopped dried cranberries over the frosting on the cake.
Make the drizzled icing by whisking together powdered sugar, milk, and shortening. Drizzle this icing over the cranberries in a sweeping motion with a squirt bottle or fill a small plastic storage bag with the icing and cut off the tip of one corner.
Cover the cake and let it chill out in the fridge for a couple hours, then slice the cake lengthwise (the long way) through the middle. Slice the cake across the width three times, making a total of eight rectangular slices. Slice each of those rectangles diagonally creating 16 triangular slices.
Notes: I found I had to bake the cake part an extra 10 minutes to get it done in the middle. That may be my oven but just something to be aware of. Also, I think you could probably skip the drizzle - it doesn't have much taste and mine wasn't thick enough to really make a difference in how they looked.
I found this was quite easy. I made them to put on Christmas cookie plates for the neighbors. Andrew and I ended up eating half the pan before I got around to making said Christmas plates.
Happy baking friends! Stay tuned for Sawyers 3 month update coming tomorrow!